Skip over navigation
The City of Millersville is focused on creating a prosperous future while preserving our history.
Start Content
Playground, Pavilions and Walking Track
Playground
The state-of-the-art playground is affectionately known as Dinosaur Park by children from Millersville and several surrounding communities.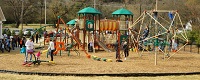 The playground is centered for children ages 5-12, but does have areas that are specifically designed for ages 2-5 and elements that are sure to excite the 12+ set as well. With planning and imagination, a child can go from one end of the playground to the other and never have their feet touch the ground! Stop by for an afternoon of fun and visit with Mille, the dinosaur. The park is open daily from dawn until dusk and exterior access restroom facilities are available at the back of the building.
Pavilions
There are two pavilions with grills and picnic tables. They can each hold 30 people and are a great location for parties and picnics. Pavilions are available on a first come, first serve basis or may be reserved for an event with rates starting at $15.
Walking Trail
The park also has a 1/4 mile walking trail that circles the property. It is a great place to get in a quick mile walk while the children enjoy the playground. The trail is open everyday during daylight hours.
Contact Us
Phone:

(615) 448-6959
Office Hours:
Monday - Wednesday 10:00 a.m. to 7:00 p.m. Closed Thursday Friday 10:00 a.m. to 5:00 p.m. Saturday 10:00 a.m. to 4:00 p.m.
In this Department
Topics of Interest