Skip over navigation
The City of Millersville is focused on creating a prosperous future while preserving our history.
Start Content
Facilities
Millersville Parks and Recreation has a location for all events.
Recognized in 2012 by the Greater Nashville Regional Council for Excellence in Park and Recreation Facilities, the Millersville City Park is quickly becoming a destination for events and activities in Sumner and Robertson County.
The 9,000 square foot Community Center holds three separate meeting rooms, a reception hall with stage, and a catering kitchen. With it's wrap around porches, patio seating, and rocking chairs, it is the perfect location for business meetings, receptions, reunions, parties, small concerts, or just a place to sit and enjoy the company of good friends on a beautiful day.
The park contains a playground with over 25 elements sure to please kids of all ages, swings, pavilions, a quarter mile walking trail, exterior restrooms, and an amphitheater. Consider Millersville Parks and Recreation for your next special event. Rental rates begin as low as $15 per hour.
Reception Hall
The reception hall has more than 3,600 square feet, including a 36' X 16' stage and is the ideal setting for small concerts, receptions, pageants, seminars, reunions, and other large gatherings. The floor holds up to 220 people seated at round tables or over 400 people seated concert style.
The room has direct access to the catering kitchen, lobby, side covered porch with patio seating, and playground. All rentals come with six foot round tables and banquet chairs for guests. We also have six foot rectangular tables available for use as needed. All furnishings are set up prior to your arrival as per your specifications.
The reception hall also has a house sound system, ceiling mounted wide screen video projector, and free Wi-Fi access. Microphones, stands, and podiums are available and offered with every reception hall rental.
Catering Kitchen
The catering kitchen has entrances to both a back hallway for the convenience of caterers entering a side door and to the reception hall. There are two serving windows that open into the reception hall. The 19' by 8' kitchen is nicely appointed with commercial refrigerators, commercial freezer, microwave, stainless steel utility carts, coffee pot, stainless steel sink, hand sink, and ample counter and cabinet space. The freezer is stocked with 60 pounds of ice for each rental and more is available upon request..
Meeting Rooms
There are three separate meeting rooms available for parties, small gatherings, meetings, and more. All meeting rooms may be furnished with your choice of six foot round or rectangular tables, banquet chairs, or padded folding chairs depending on the needs for your event. The furnishings will be set up prior to your arrival in the layout of your choosing and a small podium may be provided at your request.
Room 107 is the only completely interior room and is approximately 18' X 20' in size. It comfortably hold up to 20 people.

Room 106 is the largest of the three rooms at 33' X 20' and will hold up to 44 people. This room has one wall filled with windows and is a great room for parties, meetings, and other medium sized gatherings.

Room 105 is a corner room bathed in natural light from windows on two walls. The room is a little over 25' X 17' and can hold up to 28 people.
Playground
The state-of-the-art playground is affectionately known as Dinosaur Park by children from Millersville and several surrounding communities.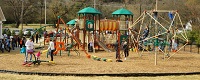 The playground is centered for children ages 5-12, but does have areas that are specifically designed for ages 2-5 and elements that are sure to excite the 12+ set as well. With planning and imagination, a child can go from one end of the playground to the other and never have their feet touch the ground! Stop by for an afternoon of fun and visit with Mille, the dinosaur. The park is open daily from dawn until dusk and exterior access restroom facilities are available at the back of the building.
Pavilions
There are two pavilions with grills and picnic tables. They can each hold 30 people and are a great location for parties and picnics. Pavilions are available on a first come, first serve basis or may be reserved for an event with rates starting at $15.
Amphitheater
The amphitheater will hold over 3,000 people (lawn seating) and the stage is approximately 42' X 20'. There are additional power panels to accommodate sound and lighting needed for larger concerts or events. The amphitheater is scheduled to open in late spring 2012 and there are plans for outdoor movies and concerts in the park. The amphitheater will also be available for private events.
Walking Trail
The park also has a 1/4 mile walking trail that circles the property. It is a great place to get in a quick mile walk while the children enjoy the playground. The trail is open everyday during daylight hours.
Contact Us
Topics of Interest